MEDIA REPORTS
FDSM Culture Festival "USA Day" Successfully Hosted
2018-11-19 15:12:00
A successful "USA DAY" event, jointly organized by the School of Management of Fudan University and Olin Business School, Washington University in St. Louis, was held on November 10, 2018. "USA Day" aims to showcase the unique features of American culture and promote cultural exchanges between schools and partners through forums, talks, sports interaction, and Hollywood Classics movie screening activities.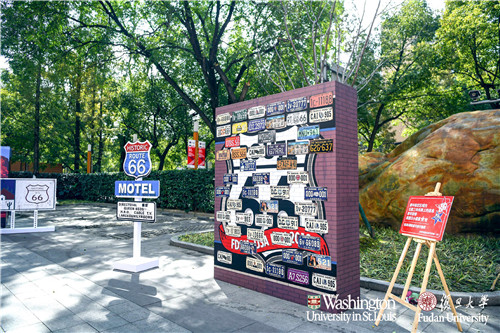 "Innovation" through Dialogues between China and US
Professor Xiongwen Lu (Dean of School of Management, Fudan University), Dorothy Kittner (Associate Dean of Olin Business School, Washington University in St. Louis), Jonathan M. Heimer (Principal Commercial Officer of the U.S. Consulate General Shanghai), and Kenneth Jarrett (President of the American Chamber of Commerce in Shanghai), attended the opening ceremony and gave speeches. Following that, Bo Lu (Head of Go-To-Market in Strategy, Sales Operations, Products, North Asia, Director), Ray Feng (Managing Director, Pivotal China), GaryWang (Vice President of Human Resources at Merck Sharp & Dohme China), and James Chou (Chief Executive Officer of Microsoft Venture Greater China), attended the Innovation Forum and delivered keynote speeches.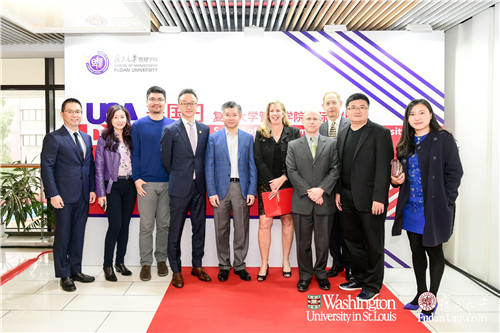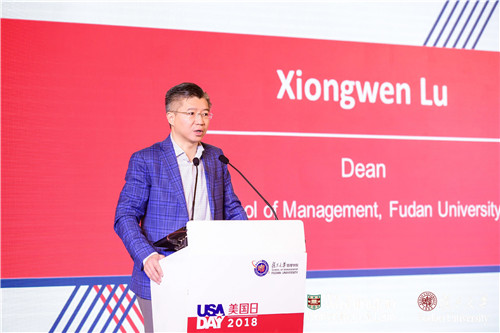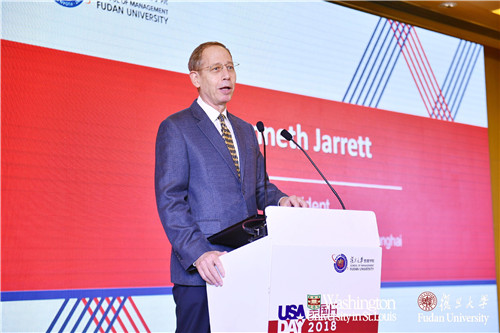 Bo Lu, Head of Go-To-Market at Google, first spoke about how Google internalized innovation into the corporate culture and into the everyday lives of Google employees in the "Innovation in Google" keynote speech. He introduced five innovative principles in Google's corporate culture: 1. Focus on Users, 2. Fail Quickly and Learn, 3. Let People Pursue Their Dreams, 4. Share Everything, and 5. Think 10X.
Ray Feng, Pivotal China's Managing Director, took "Big Data Platform in the AI Era" as a topic to deeply analyze the strategic considerations and business logic in the Greenplum development process. He highlighted the critical role of open-source economics in the era of big data, which is the nature in open-source logic for software developers for customers to purchase their own R&D capabilities. In regards to how to occupy important positions in the industry while opening up sources, he said, developers need to maintain their own innovative advantages. According to Ray Feng, innovation is the core competence of enterprises, which is built on the basis of culture – the development of artificial intelligence and big data technology is essentially driven by curiosity. In the process of forming culture, we should have clear meta-thinking and logic, constantly looking for the boundary of technology for innovation. In financial areas, Greenplum big data database can empower business intelligence by clouding and cross-clouding.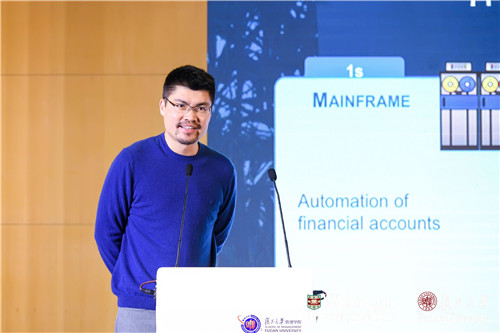 In the keynote speech: "MSD Inventing for Life," Gary Wang, Vice President of Human Resources at Merck Sharp & Dohme China, shared Merck's corporate culture on product innovation. He suggested that the root cause of enterprise innovation is not only the mission and vision, but also the idea of "innovation must be sustainable." Merck has set itself up as a research-intensive enterprise, spending 20% of its annual budget on R&D. The company is a leader in prescription drugs, vaccines, biologicals, and animal health care products, and the corporate value that the company continues to pass on is: "Drugs are made for people, not for profit." As China's reform and opening up continues to deepen, the process of drug approval will be accelerated, which will help to shorten the cycle from research and development to market, and meet patients' needs in a timely manner.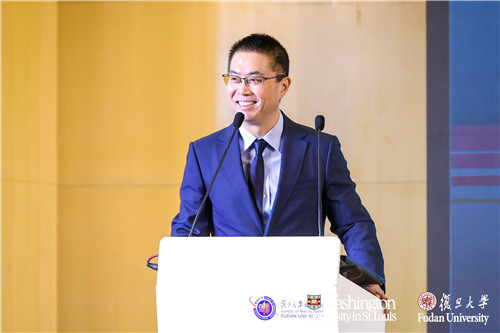 Finally, James Chou, Chief Executive Officer of Microsoft Venture Greater China, presented "Microsoft Empowers Your Innovation Dream " as a keynote speech, and shared the experience of Microsoft Venture assisting enterprise development. Microsoft Venture is a strategic investment project for innovative enterprises. Teams based at Microsoft Accelerator generally meet the 4S's. First, Significant Market Size — a startup's product or service — is meant to serve a sufficiently large market. Second, Sustainable Barrier — the need for startups to have their own technological innovation strengths — is seen by Microsoft Venture as a more sustainable competitive advantage than model innovation. Third, Scalable Business Model — the startup business model, product, or service, needs to be extensible. Fourth, Strong Team — a team is required to have a wealth of past experience and a strong technical capability.
After the keynote speeches, four guests held a round-table dialogue to discuss "The Never-Ending of Innovation" in greater depth, moderated by Paul Shao, Director of WashU-Fudan EMBA program.

Great Engagements around the "American Style"
In the afternoon, Nigel Robinson, Principal Consultant of GP Strategies, presented a sharing session on "Closing the Gap between Strategy and Execution" at the School of Management. He introduced a clip from the movie "Gladiator" to showcase the concept inspired by the military special forces that can be applied to the business environment and help business leaders achieve the perfect strategic objectives. Anthony Azama, John M. Schael Director of Athletics at Washington University, discussed "WashU and the Business of College Athletics." Chris McLaurin, CEO of ISG-Nike American Football Camps in Shanghai, shared about "A Football Life: Lessons of Leadership from the Gridiron," which showed the cultural identity of American football from different perspectives. Anthony Azama also introduced the sports industry at the Washington University. Talk show actor Yan Shi and Jorge Castellanos performed live, presenting the audience with a warm and cheerful talk show experience.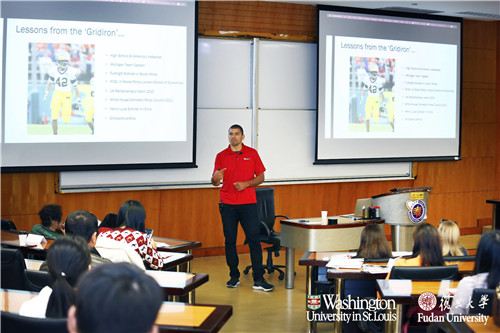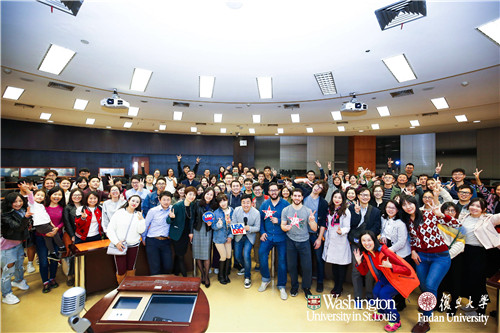 Meanwhile, the studio for "The Big Bang Theory" was set up in the Starr Building — the "duplicated" the living room of Sheldon Cooper and Leonard Hofstadter — so attendees could feel like they were in a scene of an American sitcom. The school also set up the Route 66 Car Culture Experience Game in itself,brought the American spirit to the American Day site by arranging state-specific license plates. Graffiti art is seen in the United States as a symbol of talent, passion, and expression, so American Day also set up a special graffiti wall. Additionally, Robert Mondavi, a leader in the American wine industry — located in Napa Valley (the "home" of wine) — brought wine culture and wine tasting experiences to the event, while Chinese boutique coffee leader, Mellower Coffee, also brought the experience of making coffee and handcrafted latte art.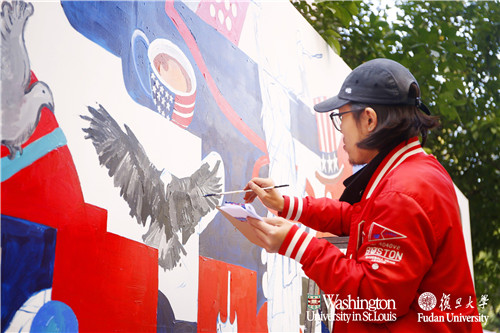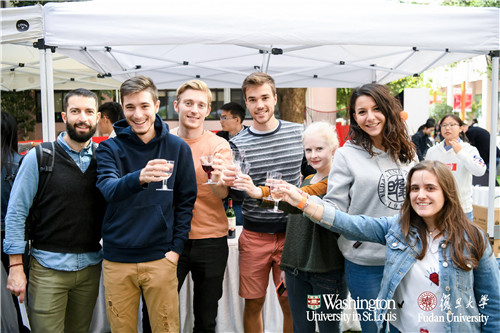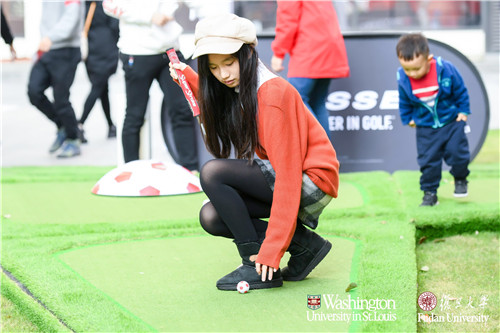 In the evening, a "Hollywood Night" performance was presented in the Lida Building. Mark Taylor, Dean of Olin Business School at the Washington University, gave the performance the green light. Fudan students joined hands with professional groups from Shanghai Theatre Academy and reinterpreted six classic Hollywood films, including Chicago, Brokeback Mountain, Knockout Game, Love Actually, Glass Zoo and XXXX. This brought a Hollywood-style journey to the audience and created a deep American memory for the students.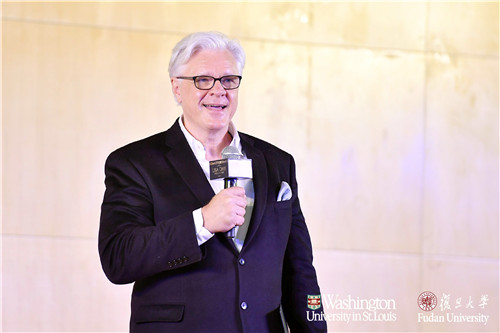 In 2017, Fudan University ushered in the 100th anniversary of the founding of its business education, and the 32nd anniversary of the re-establishment of the School of Management. In honor of this celebration, the school set up a series of activities under the title of "Culture Festival."
The goal of the activity was to give full play to the advantages of running a school and to make use of the various forms of expression, to present the cultural features of different parts and countries of the world represented on campus; deepen communication between teachers, students, and alumni; and further enhance the international image and influence of the school while also vividly displaying the school's educational achievements. In the past two years, Norway Day, Great Britain Day, and Hong Kong Day have also been successfully organized and celebrated.